Mentor Scout Wins HR Executive Top Ten Product of The Year
Published in the Human Resources Executive Magazine, October 2007 Issue
Under Top Ten HR Products of the Year, Page 60.
Mentor Scout Talent Networking Edition
Nobscot Corporation, Kailua, Hawaii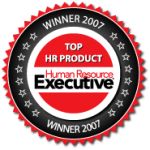 What It Is:
Mentor Scout Talent Networking Edition uses personal profiles and interactive information exchange as a way to facilitate employee communication, collaboration, knowledge sharing and recognition. Mentor Scout is a new spin on social-networking solutions such as MySpace and Facebook.
It allows employees to create personal profiles, a la those sites, related to their professional and personal lives and connect with other employees and potential mentors.
The online system is divided into tabbed sections that allow for the exchange of specific types of information, such as current or future work projects; recognition from colleagues or supervisors; the dissemination of questions throughout the organization; and the arranging of meetings and social gatherings. Mentor Scout is designed to encourage accelerated knowledge transfer among all employees.
It's available via subscription, with prices ranging from $8 to $50 per user, depending on the total number of participants in the program.
Why We Like It:
Kudos to Mentor Scout for building a solution that engages all workers, but especially millennials, in collaboration and knowledge-sharing processes. All the features that attract Web users to Facebook contribute to making Mentor Scout an innovative tool for talent management, training and retention.
Mentor Scout Talent Networking Edition, complete with tabbed special sections that make it easy to navigate, offers access to people in the organization who can provide input, advice or direction. It's especially appealing to those seeking feedback in real-time from a variety of sources.
Human Resources Executive Magazine Top Ten HR Products